STUDER
AJ 700-48V
Studer Innotec SA is a Swiss company based in Sion, founded by Roland Studer over 30 years ago.
It is an ISO-certified company that develops and produces MPPT solar inverters/chargers and charge controllers 100% in Switzerland. As well as having a great deal of experience in the market, all the equipment comes with a basic 5-year guarantee. However, it is possible to extend the warranty to 10 years by registering online.
 The AJ series includes battery inverters that are similar to each other, differing only in the nominal power value.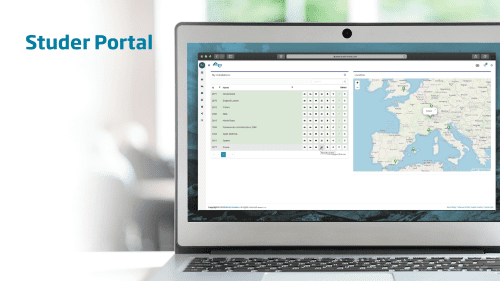 Reliability
Plug and forget" system that makes it very reliable

Self-consumption
Low stand-by consumption

Easy installation
Light, compact and easy to install

Battery protection
Battery Lifetime Optimiser" function protects batteries from long-lasting discharges
DID YOU GET CURIOUS?
THEN WATCH THEVIDEO :
Output Power
500VA
Nominal Voltage
48v
Dimensions
84 × 240 × 142mm (L × W × H)
Weight
4.5kg
Warranty
5-year product warranty
Extendable up to 10 years total
Recommended for you